The Crew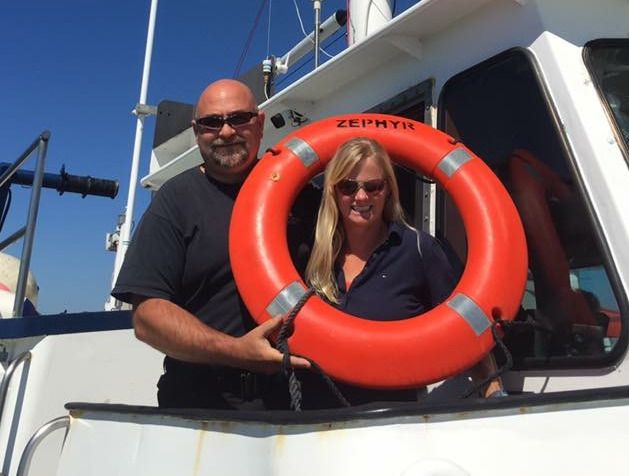 Ron and Ashley are the owners and operators of Zephyr, they purchased Zephyr from the Monterey Bay Aquarium Research Institute in October of 2013 and with the help of a select crew of friends brought her up the Pacific coast and up the Columbia River to Portland Oregon for refit.
Captain Ron is a licensed USCG Master 200 Ton Near Coastal with endorsements of RADAR Watchstander, STCW 95 Safety Training and a lifetime of on water experience from the early days of rowing around a 12 foot dingy back in the early 70's around Grosse isle Michigan all the way to operating a commercial assistance towing vessel in the area known as the "Graveyard of the Pacific". Ron runs the mechanical and piloting side of the Zephyr Experience.
Ashley also holds a USCG Masters 100 Ton license inland, 200 Ton Mate, she is an artist by training, holding a BFA degree from University of Victoria. With a spectacular eye for detail and a certified SCUBA instructor, she keeps things running behind the scenes, helps crew the boat, cooks and cleans and ensures all of our guests receive personal attention.
Ron and Ashley met back in 2006 while Ashley was working and teaching at a SCUBA shop on Vancouver Island and Ron came up to teach a technical diving class. With several shared interests in SCUBA, travelling, photography and boats, they hit it off over a sushi lunch and started planning what to do next.
Next was getting married in 2010 and starting a boat towing business in Portland Oregon. After the first year helping Ron with Columbia River Marine Assistance, Ashley started Ashley's Boat Care and developed a reputation of the "goto" person if you wanted your boat to look like new. 4 years into the towing business, Ron was always looking for the next adventure and found it in a listing of a commercial marine magazine called "Boats and Harbors". Yep, the Zephyr was for sale and although it took some convincing, Ashley came on board too. Ron had spent many weeks aboard a super cool live aboard dive vessel as a guest and later as crew and had developed an itch to provide that same experience to others. Together they put this thing on the water.
Our pet engineer is John Holbert P.E., who is an amazing help as crew, crane operator, designer and fabricator of cool stuff. He and his wife Jill own the Schooner Merrie Ellen and we frequently trade out as crew on their boat.
Zephyr is blessed with many friends who come help us out when we need crew. A special thanks to Michael Kellick, Robert Bergstrom, Tony Porche, Bill Wechter, Stuart Pugh, Patrick Mode, Wally Coon, Jeff Duval, Julia Meyer, Kirk Lance, Warren Dalby, Neal Smith and Merlin Schone for being there when we need you.