The Boat
Welcome aboard Zephyr.
Let's start with some history.
Zephyr was laid up at the Colberg Boat Works in Stockton California in 1972 and she was hull # 72-18. Originally built for the San Francisco Bar Pilots her job was to safely transport pilots out to the large deep draft commercial ships so they could have a guide with local knowledge direct the crew to bring the vessel in. Zephyr's name then, was the P/V (for Pilot Vessel) San Francisco and she was one of two boats that alternated duty on rotation. P/V San Francisco was built to the highest standards dictated by the American Bureau of Shipping in steel throughout with the best materials, plumbing and wiring, 90% of which is still in use and functioning perfectly today. We still have several items aboard that show her original name.


Image courtesy of SF Bar Pilots

This is a small ship that was designed from scratch to spend its life literally running into other, much larger ships, in almost any sea condition. Truly a world class vessel.
On Sep 4, 2001 P/V San Francisco was re-christened R/V Zephyr and given a new mission. http://www3.mbari.org/news/news_releases/2001/aug29_zephyr.html After nearly 30 years of faithful service, the SF Bar Pilots donated her to the Monterey Bay Aquarium Research Institute to be converted into a oceanic research vessel. MBARI spared no expense converting and improving Zephyr for her new mission and added two utility hydraulic cranes to her back deck, two new generators, electronic engine control systems, modern navigational electronics and many other upgrades and improvements. She was also repainted from her original red pilot vessel colors to blue/white.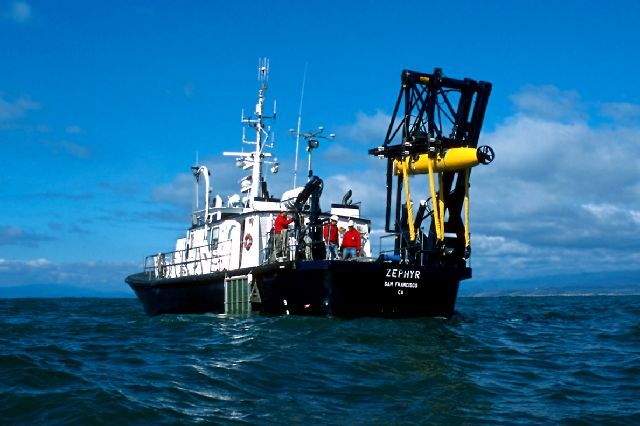 Image courtesy MBARI Photo Credit: Todd Walsh (c) 2004 MBARI
We purchased Zephyr from MBARI in October of 2013. A pre-purchase survey showed that the vessel was still in excellent shape and we took on the task of refitting her for adventure charters and our own next adventure too. We spent the next two and a half years doing our refit, while simultaneously working our small businesses with the goal of moving forward while staying connected to the water.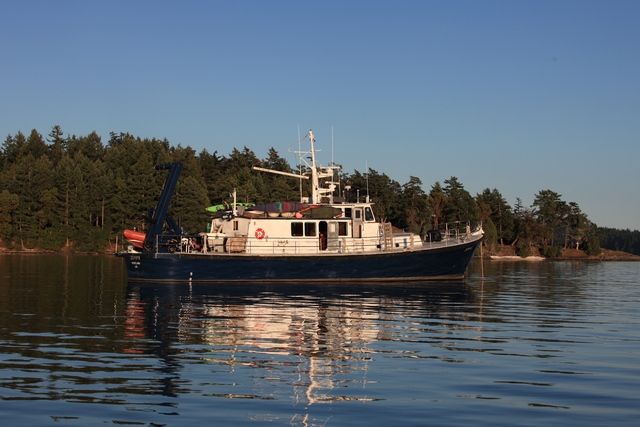 Click on www.facebook.com/zephyrnw and scroll back to October 2013 to start at the beginning of our work and see the transformation of Zephyr
Currently the Zephyr is equipped with modern navigational equipment including 2 Furuno RADAR sets with 64 and 72 mile range, 3 mounted VHF radios with elevated antennas plus 3 handheld VHF radios, a marine SSB HF radio that will reach out over 1500 miles, a Gyrotrac stabilized heading system for navigation and autopilot, AIS (Automatic Identification System) Class B transponder, which allows other vessel traffic to see us and for us to see them, even around corners and at extended distances where RADAR cannot. We have 3 electronic chartplotter systems all with redundant inputs. Safety equipment includes a SOLAS rated 16 person liferaft, an EPIRB (Emergency Position Indicating Radio Beacon) plus an additional PLB (Personal Locator Beacon), all required visual distress flares including SOLAS rated versions, Type I offshore PFD (lifejackets) and immersion suits. We have required bilge water level alarms in all compartments with interior and exterior alarm announciators. 9 Fire extinguishers total, one in each compartment plus an engine room CO2 fire suppression system with manual or automatic release. We also have at least one skiff (usually 2) along for safety or shoreside transportation.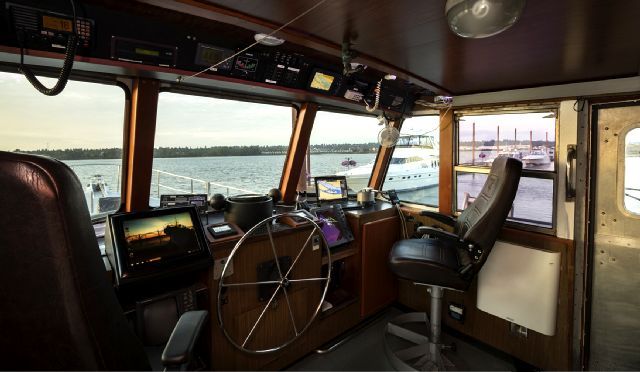 The Pilothouse and navigational equipment
The ship is powered by twin Caterpillar D343T engines that produce over 300 HP each sent through TwinDisc 514C marine transmissions and 4" stainless steel shafts and a pair of massive 52' high 3 blade stainless steel propellers. Zephyr cruises nicely at 10 knots and provides excellent fuel economy at that speed. We have a conservative range of over 2,000 miles.
We bunker 3600 gallons of #2 diesel that powers all of the onboard engines and our larger skiff. We hold 1,000 gallons of fresh water, 400 gallons of waste water for dockside pump out. Our fuel tanks were emptied and cleaned in the spring of 2016.
The Zephyr has a 300# Navy style anchor, with 100' of 3/4" galvanized steel chain and 500' of 3/4" galvanized wire rope loaded onto a 16" hydraulic operated drum. Our electrical power comes from 2- 40 kilowatt 3 phase 120/208V diesel electric generators that also provide hydraulic power for the anchor windlass, bow thruster, and deck cranes, we have a third generator which is 12KW, fully enclosed and double rubber mount isolated with a water filled exhaust and is run at night for a noise free sleeping experience. We also have a 600 gallon per day reverse osmosis watermaker to refill our 1,000 gallon fresh water tanks. All water dispensed in the ship is passed through a charcoal filter and is safe to drink. The water heater is 50 gallons and has enough capacity to provide a hot shower daily to guests, just not all at the same time. We have 2 heads, one has toilet sink and shower, the other a toilet and sink.

Our super quiet Northern Lights 12KW generator, really, the refrigerator is louder than the genset.
We have also added in a 24 volt, 800 Amp/hour battery bank and 15KW of Victron Energy inverters, so now we have an absolutely silent nighttime experience. With the new inverter and battery bank we only run the generator for 2-3 hours in the morning to charge up the batteries while cooking breakfast, and another 2-3 hours in the evening, then off for 10 hours overnight. This saves fuel, reduces our energy footprint and helps create a very relaxing experience for everyone onboard. The next big thing? Solar Panels. Please stand by...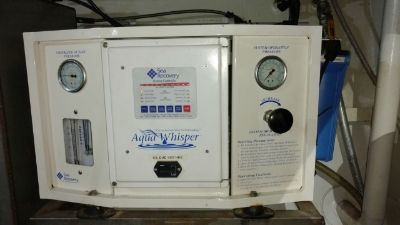 The Watermaker
Accommodations are simple but comfortable, the area is split into port and starboard with four beds on each side, each bed has an extended twin XL mattress, except for the starboard side forward beds which are ~queen sized. Each bed has a privacy curtain that is double thickness and keeps out noise and light and a reading light is mounted overhead and a single plug outlet for charging electronics or running a small fan (provided). We can berth up to 10, 6 in the single beds, plus 2 couples in the queen beds. Crew quarters are forward of the guest berths and we do transit the area to access our quarters. Bed sizes are as follows, the twin beds are 78" long (6'5") and have 32" headroom, the ~queen beds are 78" long (6'5") and have 32" headroom. For more info and some photos of our accommodations area please click here http://www.zephyrnw.com/accommodations
Zephyr is accompanied by our inflatable skiffs, Typhoon, a 16' utility Zodiac with a 50HP 4 stroke Yamaha outboard and Vortex, and/or our 21' USMI built commercial duty inflatable with a recently refitted with an amazing 225hp Yamaha 4 stroke outboard that gets us around quickly and quietly. Both are equipped with VHF radios and chartplotters and Vortex is also equipped with AIS class B transponder. Typhoon rides aboard the back deck of Zephyr and Vortex is towed behind.
We have a compliment of 6 kayaks and two stand up paddleboards with paddles and PFD's and we can do tours for 5 guests at a time with one for our guide. If you have a kayak or SUP, you are welcome to bring it along.